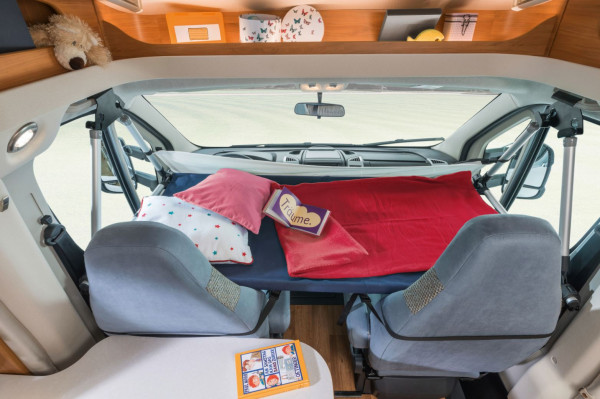 Motorhomes
Simply send your noted products with the wishlist function to yourself, friends or your Dethleffs trading partner!

Dethleffs original accessories are not available ex factory, they are only available directly from your Dethleffs licensed dealer. Images shown may be subject to modifications.
Suitable for vehicles manufactured by: Dethleffs
Model range / model: 4-travel T, Advantage Edition T, Advantage T, Alpa, Esprit Comfort A, Esprit T, Globebus T, Grand Alpa, Magic Edition T, Pulse T, Trend A, Trend T
Model years: 2007, 2008, 2009, 2010, 2011, 2012, 2013, 2014, 2015, 2016, 2017, 2018, 2019
Chassis: CITROEN Jumper, Fiat Ducato
Max. load capacity 50 kg
Child´s bunk
Sleeping made very easy
The bunk which has been specially adjusted for Dethleffs offers children (up to an approximate height of 145 cm) a special place to sleep. The bed can be assembled in a matter of minutes and is simply hooked into the handles which can be found in the Fiat cab (requires holders which are included in the scope of delivery). Also ideal in order to enjoy holidays with the grandchildren without any major effort. The bed frame is manufactured from anodised aluminium tubes with high-strength plastic connectors and the bed surface consists of a blue durable cotton fabric. It goes without saying that a required privacy screen / fall guard in the direction of the windscreen is included. The two cab seats serve as a fall guard towards the living area; there, the bed is also secured against wobbling with sewn-on belts (on the bed).
■ bed surface: length 150 cm x width 70 cm
■ packing size in the kit bag: width 105 cm x heigth 10 cm x depth 10 cm
■ load capacity: 50 kg
■ tare weight: 7.5 kg
■ appropriate mattress pad (mattress topper) optionally available
Appropriate for all Dethleffs partly integrated and alcove models on Fiat Ducato and Citroen Jumper (as of model year 2007).
Write an evaluation
Evaluations will be activated after verification.