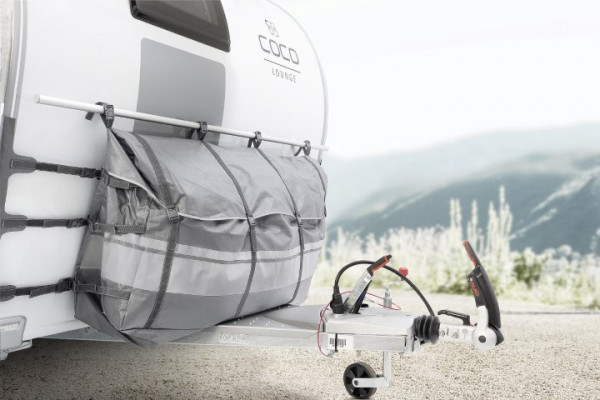 Dethleffs Coco Transport bag
Caravan
Unverbindliche Preisempfehlung
Senden Sie Ihre gemerkten Produkte ganz einfach mit der Merkzettel-Funktion an sich, Freunde oder Ihren Dethleffs Handelspartner!

Dethleffs Original-Zubehör ist nicht ab Werk lieferbar, sondern ausschließlich über Ihren Handelspartner bestell- und nachrüstbar. Abbildungen teilweise vorbehaltlich Änderungen.
Suitable for vehicles manufactured by: Dethleffs
Model range / model: Coco Lounge
Model years: 2019
Weight: ca 4,5 kg
Dethleffs Coco Transport bag
Save space when you're on the road!
The transport bag that has been specially adapted to the front end of the Coco provides sufficient space for a variety of useful things for when you're on the road. Among other things, the optionally available Coco awning and/or the storage bags for caravan skirts can be easily and comfortably stored and transported in the bag.
■ High-quality materials for outdoor use
■ Transport bag specially adapted to the front end of the Coco
■ Optimum storage and transport possibility for the optionally available Coco accessories:
- Awning (item no. 2972341) and/or
- Storage bags for caravan skirts (item no. 2972358)
■ Bag weight approx. 4.5 kg
■ "Made in Germany"
Bewertung schreiben
Bewertungen werden nach Überprüfung freigeschaltet.